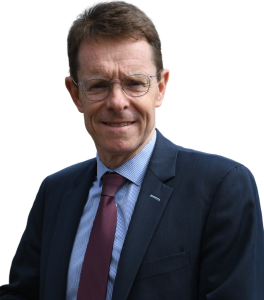 Andy Street
Mayor of the West Midlands
Andy Street was elected as the first Mayor of the West Midlands in May 2017. Andy was re-elected to serve a second term as Mayor in May 2021. The primary function of the role is to chair the West Midlands Combined Authority and brings with it significant powers over transport, housing, skills and jobs. 
Before becoming Mayor, Andy combined a career with John Lewis, Britain's most successful workers' co-operative, with a host of high-profile economic development roles, working with local and national government. 
He was the Chair of the Greater Birmingham & Solihull Local Enterprise Partnership between 2011 and 2016, helping to build the relationships that have underpinned the economic growth of the region. Additionally, he has been lead non-executive director for the Department for Communities and Local Government as well as a member of the Prime Minister's Business Advisory Group. 
In June 2015, Andy was awarded the CBE for services to the national economy. He was named the 'Most Admired Leader' of the year by business magazine, Management Today in 2014. He received the 'President's award' from the Greater Birmingham Chambers of Commerce in for his work in the region. He holds three honorary degrees, from Birmingham City University, Aston University and the University of Birmingham. 
Hall 5 Big Zero Lectures
Headline Speaker
Mayor Andy Street will be speaking at the Big Zero Show, where he will be giving his vision for the future of net zero in the Midlands.